Plumbers install, maintain, and repair water pipes, drains, and fixtures in residential and commercial properties. A plumber also installs domestic appliances related to heating, cooling, and sanitation systems. They are the first trade workers that homeowners and building managers turn to when there's a plumbing emergency or for standard maintenance work. They also have the stamina to perform physically challenging work, such as crouching under sinks or working on rooftops in bad weather.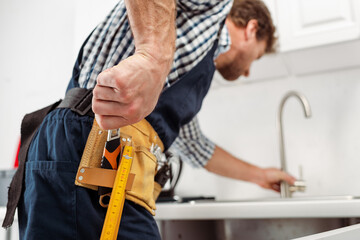 Plumbers install, repair, and maintain plumbing fixtures, pipes, and valves in residential and commercial buildings. Individuals interested in becoming a plumber should first earn their high school diploma or GED certificate. They can then pursue a plumbing license by earning an apprenticeship under a licensed plumber. Many trade schools and apprenticeships offer training in this career.
In addition to classroom learning, apprentices practice soldering, welding, and modifying pipes to install water, gas, vacuum, and drainage systems. They also learn to work with bending machines and threading tools. Upon completion of their apprenticeship, apprentices may be eligible for journeyman plumber licensure and can begin working independently or under the supervision of a master plumber. They can obtain this licensing through a state-approved program and work experience.
Plumbers install and repair pipes in homes, factories, offices and other buildings. They also install septic systems, which are underground tanks that collect waste from houses that don't have sewer connections. In this career, you may work in tight spaces and outdoors in inclement weather. It's a physically demanding job and offers a good income.
Entry-level jobs are relatively easy to find, and you don't need a college degree for most plumbing careers. However, a high school diploma can help you advance in your career. During the first few years of your career, you will likely spend most of your time working alone and without direct supervision. This can be challenging, but it will also teach you how to prioritize and complete projects efficiently and effectively. Employment of plumbers, pipefitters and steamfitters is projected to grow 16 percent between 2016 and 2026. This is much faster than the average for all occupations.
Plumbers install, repair and maintain pipes that carry water, gas, waste, air and other fluids in homes and commercial buildings. They work with general contractors, electricians and other construction professionals to ensure that all plumbing systems work properly and comply with local regulations.
A typical day for a plumber involves traveling to different job sites and working on plumbing issues like burst pipes or rusted pipe fittings. They also perform routine maintenance to keep plumbing systems in good condition and prevent future problems.
Some plumbers may also work in a design capacity, helping to draft blueprints and make the installation process more efficient. They must have excellent troubleshooting skills and be able to work in various environments, including dirty, contaminated or extreme temperatures. They should also be strong enough to lift and move heavy pipes.
If you're interested in becoming a plumber, there are several options for getting the training you need. Plumbers can enroll in apprenticeship programs that combine on-the-job and classroom learning. This can help them avoid the cost of college and debt.
Depending on the job duties, experience level and specific industry, plumbers may be paid between $15 and more than $45 per hour. Those in commercial plumbing, natural gas distribution or pipeline transportation may make higher wages than residential electricians. In addition, some plumbing businesses offer bonuses as incentives for hard work. These include individual performance-based pay and referral bonuses.
As with other trades, plumber salaries vary from state to state and region to region. If you're planning to move, it's important to know what salary ranges are available to plumbers in your new location.
A plumbing system is the network of pipes that connects all the fixtures in your home, like sinks, toilets and showers. It also includes drains and vents that carry waste away from your house. To properly install a plumbing system, you must follow local codes. You must also follow the home's layout and plan how to route drainage, supply, and vent pipes.
Depending on the type of building, plumbing materials include cast iron and brass for drains, copper or PVC plastic for supply pipes and flexible cross-linked polyethylene (PEX) for vents. These are strong, noncorrosive, durable and safe for the environment. During the rough-in phase of new construction plumbing, you can expect the plumber to chart a path through your home's walls and floors, cut and lift drywall and tile and open up any spaces that the new plumbing piping will use. They will also install the piping, ensuring all seals and connections are firm.