Plumbing is a field that deals with the conveyance of fluids in a variety of applications. Plumbing involves the use of pipes, valves, plumbing fixtures, tanks, and other apparatuses to transport fluids from one place to another. If you've ever wondered what a plumber does, this article can help.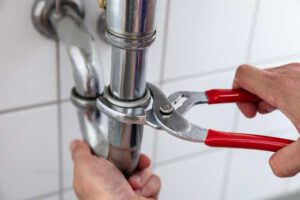 Plumbing is a crucial part of construction projects. Running water is a constant, so having a well-functioning plumbing system is necessary to control water consumption. It helps to keep your water bills down while protecting your home from mold and rot. Plumbing systems are also essential for water quality, as they keep your home safe from contaminants. But plumbing isn't just a practical tool; it also contributes to your overall health. When your home isn't working properly, it can lead to a host of health problems. That is why it is best to hire Plumber to make sure your plumbing system is in great condition.
The plumbing industry is a specialized field. While many plumbers are self-employed, much work for smaller businesses. Other plumbers choose to work for a larger entity. Large buildings, municipal buildings, school districts, and airports all hire plumbing staff to keep their buildings running smoothly. Plumbing is important to our country's infrastructure, and military jobs often require experience with plumbing. Likewise, large aircraft, yachts, and motor vehicles require plumbing.
In general, plumbing jobs include installing and maintaining pipes, valves, and appliances. They also include public water supply systems and venting systems. However, plumbing jobs don't include drilling water wells, installing water softening equipment, manufacturing plumbing equipment, or installing a septic system. A properly functioning plumbing system helps you keep your home safe from floods. It also ensures proper sanitation. So, whether you're planning to build a new home or remodel your existing one, there's a plumbing job for you.
Drains are essential parts of your plumbing system. They prevent sewer gas from entering your home by trapping wastewater. When a drain is clogged, a plumber can quickly fix the problem. But a plumber can't fix every problem immediately. Plumbing professionals can use a camera to inspect the clogged pipes and provide you with a solution to prevent flooding. You can also find out whether or not a drain is backed up by a blockage.
For new constructions and remodels, plumbers can use PEX for piping. It's flexible and requires fewer fittings than rigid plumbing systems. It's best if you're installing a plumbing system in a new home or a re-pipe project. PEX is particularly useful in corrosive water areas, where water can build up and cause problems. It also stretches in freezing conditions and returns to its original size when it thaws. As a bonus, PEX is extremely freeze-resistant, which is rare in any other material.
The plumbing system is made up of many components that work together to make sure water flows into a building and removes waste. Supply pipes take clean water from a water source into the house, and drain pipes carry wastewater out. While older pipes are being phased out because of potential health risks, newer pipes are becoming the norm. Each type of pipe has its strengths and weaknesses. For residential use, supply pipes are the main source of water, while drain pipes carry wastewater from a building.
Pipes and tubes are the most common pipes used in plumbing systems. Pipes are typically formed from cast iron or extruded materials and are used in residential plumbing when new constructions are not yet built. The plumbing trade refers to them as iron. While they're durable and easy to install, they're expensive and hard to work with. The plumbing trade also calls them "iron," and they're typically used for repairs and replacement in existing systems and in hotels.
In residential homes, pipes carry water to the kitchen faucet and take waste to the sewage system. Plumbing systems have been around since ancient times, and used clay pipes to transport water. More modern materials like polyvinyl chloride and cross-linked polyethylene became the main choices for pipes in the twentieth century. Regardless of what type of pipe you have installed, there is likely a plumbing company near you that can provide the services you need.
Plumbers can handle a variety of plumbing problems, including water pipes, leaking pipes, and puddles. They can also work in a business environment, installing and repairing drainage systems. Their specialty is household water systems. You can even call a plumber if you are unsure of what the problem is. Whether it's a simple leak or a major plumbing emergency, a plumber is ready to assist you. There are many different plumbing specialties, and each one requires specific knowledge and experience.