Water damage can occur from many sources. Weather events are a main contributor, but many losses come from failing systems inside your home. Check your appliances, especially the hoses connecting them to the wall, regularly for signs of leakage.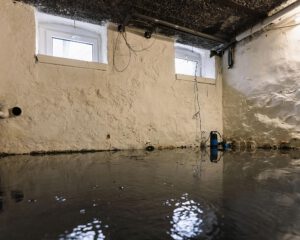 Unexplained humidity or dampness is often a sign of an undetected leak. Mold build-up is also caused by moisture and should be addressed immediately. Visit Website to learn more.
A water leak from a burst pipe or a faulty toilet flange can cause serious damage to your home. It will leave visible water stains, and it may even rot wood and carpet. It can also lead to mold, which is dangerous to your health. The good news is that you can prevent major water damage by checking the status of your pipes and fixing leaking ones as soon as you find them. If you ignore water leaks, they can cause costly damage to your furniture and drywall. Additionally, they can be difficult to repair, and your insurance company might not cover them.
Leaks are a common problem in homes and can occur in many areas, including walls and the ceiling. They can be caused by everything from aging and temperature changes to poor plumbing installation and corrosion. Leaks in the walls can be especially damaging because they saturate insulation and wood framing, which can weaken them over time.
Water and sewage leaks can cause a lot of damage to the interior of your home, resulting in swollen walls, soft furnishings, and damaged appliances. Moreover, if left unmitigated for an extended period of time, they can weaken a structure's support beams, making it unsafe to live in. Additionally, water leaks can cause damage to light fixtures, electrical wires, and other appliances in your home.
Typically, homeowners and commercial property managers are aware of the potential for water damage. This is why they often install flood control systems. They are also vigilant about conducting regular inspections of their properties to detect leaks and other problems.
While some property managers have extensive experience with managing and maintaining properties, some are just starting out. In these cases, it is important for them to understand the unique aspects of water damage and how they can prevent it from occurring.
Floods
Floods are an all-encompassing natural hazard that can cause devastating damage to buildings and their contents. They can also disrupt infrastructure, and prevent access to essential services such as clean water, electricity, transportation and communication. As a result, the economic impact of flooding can be immense and long-lasting.
Many people think that they must live near a river or other body of water to be at risk from flooding. But the truth is that floods can occur anywhere. They can be caused by precipitation, snow melt or even by the build-up of waste from broken sewage pipes. These events are called pluvial floods and can affect urban areas as well as rural ones.
The depth of the floodwater will determine the level of damage that a property will sustain. While a few inches of water might not have much effect on an indoor space, if the flooding is deep enough to touch the bottom floor or the basement, structural damage will likely occur. In addition, the force of the water can carry away vehicles and other large items, which can be a huge safety concern.
Aside from the physical damage, flood water can carry bacteria and viruses that pose a threat to human health. It can also contaminate ground water, making tap water unfit for consumption. In addition, the water can wash away soil, which can weaken or destroy a building's foundation.
Floods can have a profound psychological impact on people as well. They may cause feelings of anxiety, fear, anger, sadness or depression. These emotions can interfere with daily activities, and if they persist, they can lead to serious mental health issues.
The most dangerous type of flooding is seawater, or saltwater. It's corrosive to metals, concrete and plaster, which means that any buildings in the area could experience severe damage. It's impossible for a building to withstand saltwater flooding for very long. It can also cause significant health problems, as flood waters often bring in cholera, malaria, hepatitis A and other diseases. In addition, it can also erode soil, carrying away debris and washing away the supports of bridges and roads.
Sewage
Sewage is the waste water that goes down sinks, toilets and other drains in homes and commercial buildings. It's then transported to sewage treatment plants, where it's treated and then discharged into rivers and other bodies of water. Because sewage contains pathogens (disease-causing organisms) and other harmful substances, it's important to keep it away from drinking, cooking and bathing water.
If you experience a sewer backup or other issue with your home's sewage system, contact your local utility company right away. They can send someone out to check the situation and determine if it's safe for you to return to your home. If you do decide to move back in, be sure to hire a professional water damage restoration team as soon as possible. This can help prevent long-term structural damage, mold and mildew, rotted wood and other problems caused by prolonged exposure to standing water.
There are a lot of things that can cause water damage, some sudden and others that happen over time. These include flooding from storms, leaky windows or doors, broken pipes and more. If any of these issues are left unchecked, they can lead to major problems in the future. Water damage causes mold, mildew and other issues that can be difficult to clean up and fix. It also damages furniture, electronics, appliances and building materials. It can even lead to rotting and collapsed walls and floors.
3.5 million people get sick every year after coming into contact with bacteria in sewage-contaminated water. That's because faecal matter (human waste) and other harmful substances mingle with household chemicals, personal hygiene products, pharmaceuticals, detergents, cleaning supplies, soaps and more that wash down drains in American homes and businesses each day. The result is that sewage is regularly released into the environment, where it can harm humans and animals who drink or swim in it, cook with it or wash in it.
While many people use the terms sewage and wastewater interchangeably, they are actually different. Sewage is a subset of wastewater, and it includes everything that goes down toilets, including human waste and toilet paper (in regions where bidets are used rather than toilet paper). Wastewater can be analyzed using several techniques, including filtering, staining and examination under a microscope.
Mold
The presence of mold spores in a home or other building can turn prized possessions into musty relics fit for the trash. It's a serious problem that may lead to health problems, especially in those with allergies, asthma or a weakened immune system. Molds are fungi that thrive in wet cellulose materials. Damp environments encourage them to grow, and they produce musty odors that aren't pleasant for anyone.
Molds can be spread by air or by direct contact with wet surfaces. Spores are so tiny that they can't be seen with the naked eye, and they float in the air until they settle on wet spots or surfaces. They grow by digesting the materials they are growing on and releasing toxic substances called mycotoxins that can cause various reactions in people.
When a person touches a damp surface, they can pick up these spores on their skin and inhale them into the lungs. Once in the lungs, the spores can enter the bloodstream and be circulated throughout the body. Mold spores can also damage the surface of a person's eyes, nose and throat and cause respiratory distress.
For this reason, it is important to dry water-damaged areas and items within 24 hours to prevent mold growth. This is often impossible for homeowners, so they should seek professional assistance.
Leaks are a common cause of mold problems, and they often happen undetected until it's too late. They can also lead to rotted wood and other serious structural issues. In addition, they can eat away at the foundation of a house and create cracks that can let water seep inside.
Class 4 water damage is the most severe type of damage, and it occurs when water becomes trapped in significant parts of a room's structure. This could include the flooring or wallboards absorbing water, for example, or water getting behind built-in cabinets. It's difficult to fix, and it can be very dangerous for your family's health.
If you suspect water damage, call a plumber and a mold mitigation company immediately to fix the problem and clean up the mold. Then, if you can't afford professional help, try to control the moisture as much as possible by using commercial products and opening windows and doors.