Plunger Plumber installs, repairs, and maintains pipes and fixtures that facilitate water and gas distribution and waste removal. They follow blueprints and building codes to ensure that plumbing systems function properly and safely.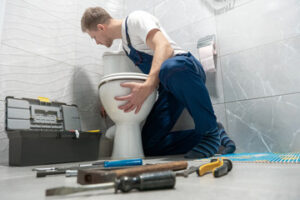 This is a manual, labor-intensive job. Plumbers must be able to lift heavy equipment and tools, stand for long periods of time, and crouch or crawl in tight spaces.
Plumbing systems are complex and include a wide variety of equipment and fixtures. Plumbers install, maintain, and repair these systems to ensure that they function properly. In addition, they may be responsible for ensuring that plumbing work meets local and state codes. They also handle tasks related to gas and water supply, drainage, and waste disposal. Plumbers use their knowledge of plumbing codes, blueprints, and construction procedures to determine the best way to install or repair a system.
Some common job duties are assembling and disassembling pipes, cutting and shaping pipe sections to size, repairing worn or damaged parts, and testing components for proper operation. They also prepare cost estimates and negotiate contracts. Other duties include assessing the status of existing plumbing systems, diagnosing problems, and performing maintenance on plumbing fixtures and appliances. Plumbers often work in residential settings, installing plumbing for new homes and renovation projects. They may also work in commercial settings, constructing plumbing for restaurants and other businesses.
Plumbers are often called upon to perform emergency repairs on plumbing systems in homes and businesses. These repairs can range from fixing leaky faucets to clogging drains and sewer lines. They must be able to diagnose and repair these issues quickly and efficiently in order to limit damage to the building and its contents.
Other common responsibilities are training other plumbers and coordinating with other contractors on construction sites. Plumbers also inspect structures to assess materials and equipment needs, locate underground piping, and cut openings in walls and floors to install pipes. They use hand and power tools to make adjustments to fixtures and appliances, such as electronic flush valves and faucets, and may use specialized machinery and equipment such as a sewer auger or vacuum pump, an acetylene torch, soldering and welding equipment, pipe threaders and cutters, and pipe cutters.
The majority of a plumber's time is spent on manual labor, so physical fitness is important. Plumbers must be able to lift and carry heavy objects and stand for long periods of time. They must also be comfortable working in confined spaces, such as crawl spaces and basements. Plumbers are required to wear safety equipment and follow all standard safety protocols when working on plumbing systems.
Education and training requirements
Whether they are working in homes, installing plumbing for sinks, tubs, and toilets, or handling water pipelines at waste management sites and power plants, plumbers need to meet a variety of training and education requirements. Those who are interested in becoming plumbers may choose to pursue a formal apprenticeship, a college degree program, or a certification course. Many states and cities require that plumbers be licensed, so those interested in becoming this type of professional should check with their local regulations.
Most plumbers are trained through an apprenticeship program, which can take between four and five years to complete. This type of program is typically sponsored by local contractors or union organizations and often includes both classroom learning and on-the-job training.
Apprentices begin their training by taking classes in a technical school where they learn plumbing codes, blueprint reading, physics, and more. They also spend about 8,000 hours working with journeymen and master plumbers in order to gain hands-on experience with various plumbing projects. This on-the-job training can include everything from cutting holes in walls to actually putting pipes in place.
Some people choose to attend a community college and get an associate's degree in plumbing technology, which takes about two years to complete and costs around $6,000. This is one of the more popular choices for those who are looking for an alternative way to train as a plumber. It will allow them to get a more well-rounded education with courses such as business and English, but it will still give them the basic training they need to become a plumber.
Some people also decide to earn professional certifications to enhance their job prospects and marketability. For example, a person can become certified in welding or gas fitting by passing exams. While these types of certifications are not necessarily required in most states or cities, they can make a person more attractive to potential employers and clients. In addition, a plumber must have certain soft skills in order to be effective at their job. For example, he or she must be good at listening to complaints from customers so that they can figure out what is causing the problem and how to fix it.
Licensing Requirements
Most states require plumbers to have a license to work in the field. This is because plumbing systems can be very complex and must be designed, installed, and maintained by someone who understands the codes that govern them. A plumber must also have the ability to problem-solve and think critically, as many problems will not have a simple solution.
Most plumbers get their start through an apprenticeship sponsored by a local contractor or trade union. These programs last from four to five years and include both classroom instruction and paid on-the-job training. During this time, apprentices learn about plumbing codes, regulations, blueprint reading, and the basics of tools and physics. They also earn hands-on experience installing various plumbing fixtures and appliances, including toilets, bathtubs, water heaters, and kitchen and bathroom sinks.
After completing an apprenticeship, plumbers must take and pass an exam given by their state's board of plumbing examiners. This exam evaluates their knowledge of plumbing system applications, including drafting diagrams and working with the code to identify and fix issues. Once they have successfully passed the exam, they can apply for a journeyman plumber's license. To become a master plumber, a candidate must have at least 10 years of experience in the trade, including at least five as a journeyman plumber. This experience must be documented with signed, notarized affidavits from the master plumbers who directly supervised it.
In addition to meeting education and training requirements, plumbers must be physically strong to carry heavy loads of pipe and equipment. They must also have good communication skills to explain to customers what needs to be done and how much it will cost. Some plumbers choose to join a union, which can help them earn a higher salary.
There are also a number of professional certifications available for plumbers, such as backflow testing, National Inspection Testing and Certification, and the American Association of State Plumbing Inspectors. These may not be necessary to meet licensing requirements, but they can enhance a plumber's resume and make them more marketable to potential employers or clients. In addition, some cities or counties require that licensed plumbers complete continuing education courses to renew their license.
Work Environment
In addition to technical plumbing skills, plumbers need to understand building codes and regulations. They also must be able to read and interpret blueprints. They may also be required to estimate the time and materials needed for a project. Because of the variety of tasks involved, a plumber's work environment can vary significantly depending on the situation.
Plumbers often spend most of their time working indoors in tight spaces, but they sometimes travel to a variety of work sites. This can include homes, business offices, and factories. They are also expected to be on call for emergency work and must be available to work during the weekend and in the evening. This can add a considerable amount of stress to the role.
Some plumbers choose to be self-employed, which can provide greater flexibility over work schedules and projects. This can be a good option for people who are looking to break into the field or for those who are already experienced plumbers seeking more control over their careers. However, it can also be a difficult option for those who do not enjoy the physical aspects of the job or who do not have the necessary skills to be successful as independent contractors.
Despite the variety of challenges associated with the job, plumbers generally enjoy their careers. They are in demand, even during times of economic decline, and can command relatively high salaries for their skill sets. Plumbers who are particularly efficient can earn even more than the national average.
If you are interested in becoming a plumber, it is important to understand all of the requirements and challenges that come with the position. It is important to ensure that this type of career is a good fit for your skills, personality, and lifestyle. Whether you are considering becoming an apprentice or pursuing a more traditional career path, it is essential to research the industry and understand all of the necessary steps that need to be taken to begin your journey into plumbing. Once you have completed your training, the rest of the process can be quite rewarding.